Civil Rights Museum Website Design
This group project consisted of the creation of a responsive website for the Ralph Mark Gilbert Civil Rights Museum of Savannah, Georgia. In addition to a proposal including our approach, schedule deliverables, pricing, acknowledgement and sign off,
the client also asked for:
- Domain name registration services
- Hosting server services
- New original graphics, photographs, maps, etc.
- Search engine optimized content (with Google AdWords)
- Google maps (at least one)
- Google analytics
- Google webmasters tools
- 20 dollars Google Adwords campaign.
Our preliminary steps before designing the website consisted of competitive research, user experience testing, user profiles, a site visit and inspiration sourcing. During our site visit, we identified the requirements of the Museum and defined the initial goals of the website. Our four main objectives of the website were to:
- Highlight the significance of the Civil Rights movement
- Entice viewers to the physical location of the museum
- Provide opportunities and information for people to contact the museum
- Provide links to deepen the user's understanding of the Civil Rights movement
We spent about 6 weeks working on the site, from initial sketches, sitemap ideation, wireframing and user testing to actual development. We wrote all of our content based off of Google's keyword planner, ensuring that the website would show up at the top of the search results. We were also given a stipend for usertesting.com to validate our wireframes and user flows with 5 people. We took dozens of photos on-site that we then edited to fit the aesthetic of both the museum and our design. We chose a monochromatic palette of earthy browns for our color scheme, in combination with halftone patterns over our photographs to really represent the cultural and historical aspect of the museum. We used consistent, sans serif type to be easily read on small devices, as well as vector icons for each page section. We even included a photograph of the business hours from the museum entrance on the site's Visit page to embrace the museum's natural aesthetic.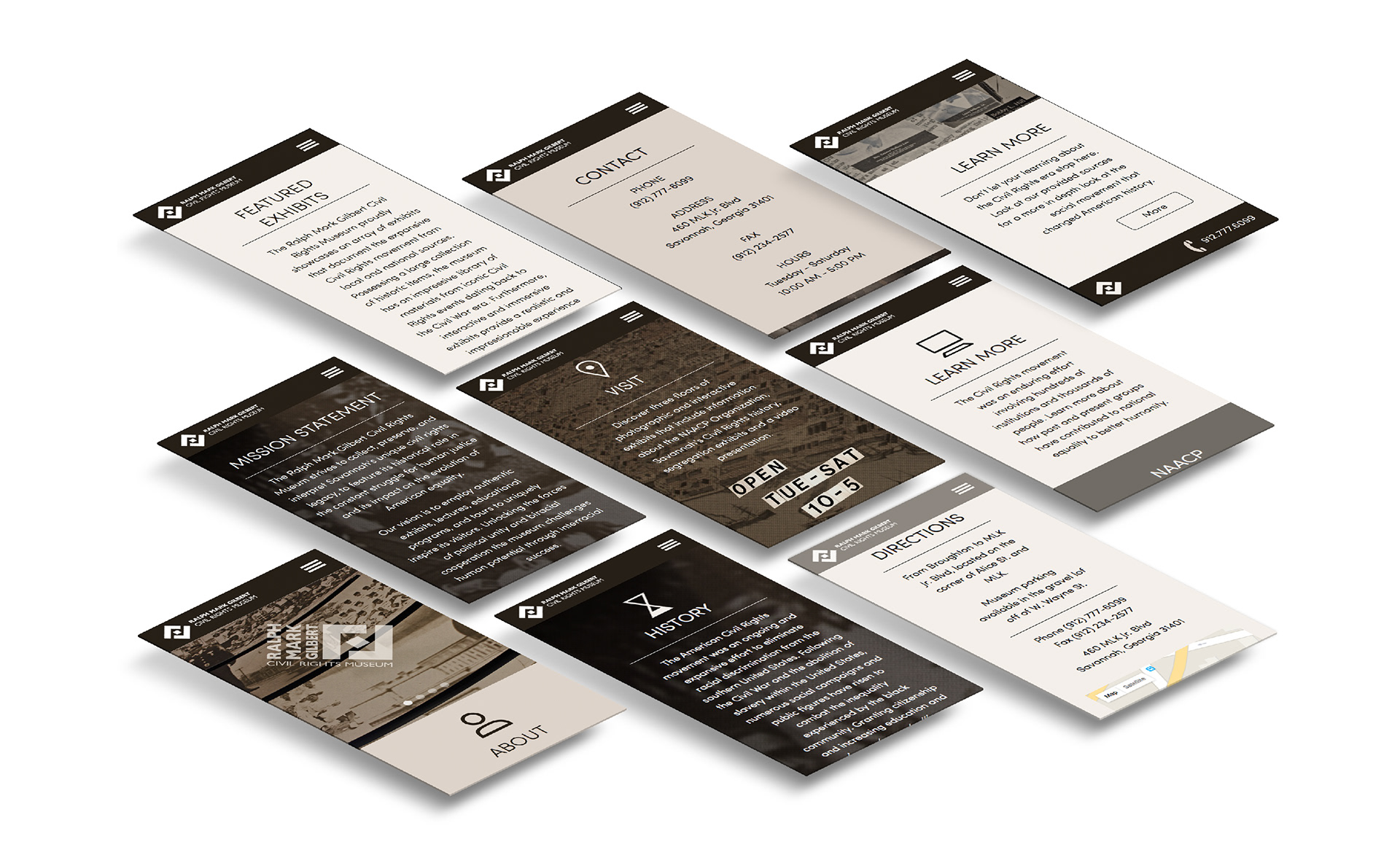 additional process work available upon request